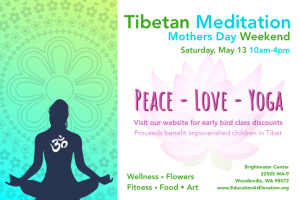 Education At Elevation (E@E) is hosting a day of education, exploration, exercise and relaxation, to raise money to provide education, food, shelter, shoes for impoverished kids in a remote nomad village, as well as scholarship for young Tibetan women at eastern Tibet.
May 13th, 2017, 10am to 4pm, Brightwater Center
We invite you to join us and help us in any way you can. We need volunteers, sponsors and/or simply help to spread the words.
For more information, please subscribe to our list