Thursday November 3, 2016 7:00 PM to 9:00 PM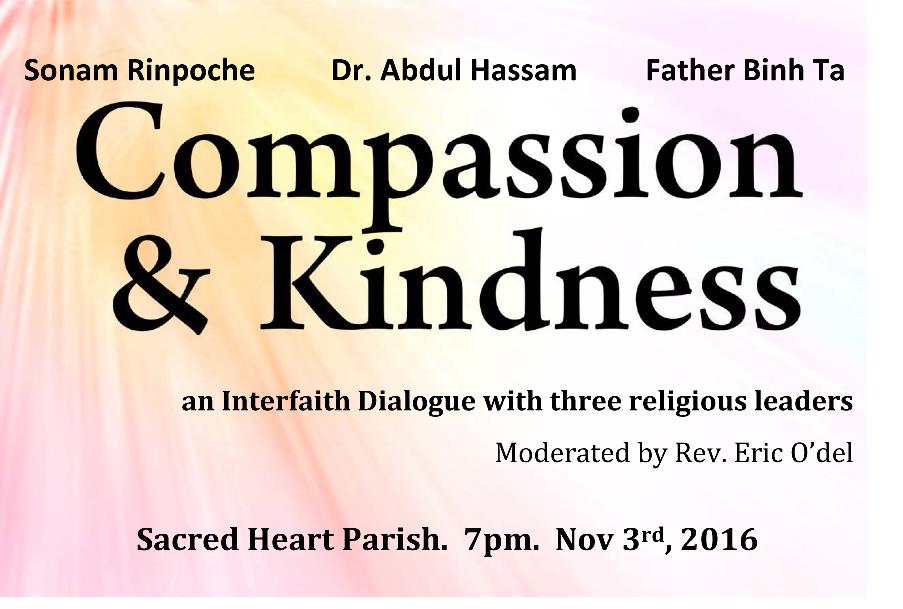 Meaningful dialogue can happen when the conversation turns to our religious differences. With understanding of other religious beliefs and practices, trust can develop as a first step in cultivating compassion and harmony through understanding within our communities.
To promote the understanding of customs and religious beliefs to nurture harmony, love and kindness in our communities, we will bring together three to promote the understanding of customs and religious beliefs to nurture harmony, love and kindness in our communities. This will be a 2 hour of discussions and Q&A. Light refreshments will be available.
The three religious panel members will be from various faiths. They are:
Sonam Rinpoche would represent Buddhism during the interfaith dialogue. Sonam Rinpoche was born in Tibet. At the age of ten he was robed as a monk at the Ahzom Monastery in Tibet. Sonam Rinpoche later pursued higher levels of Buddhist teachings in India. He has earned the title of Tulku, which is equivalent to a Ph. D. in Buddhism studies. Currently, Sonam Rinpoche is active in educating people regarding Buddhist teachings in Malaysia, China and Hong Kong. He is the spiritual advisor for Education At Elevation, a 501 c(3) non-profit organization in Washington. Education At Elevation (E@E) has a mission to improve the lives of impoverished children in Eastern Tibet through education and creating a sustainable environment.
Dr. Abdul Hassam is the Executive Vice President and Co-Founder of CAPTOVA TECHNOLOGIES Inc., recognized as the "fastest" intelligent data capture engine in the industry with advanced digital processing and imaging technology. Professor Hassam will represent Islam. He is also a research advisor in Data Science and Knowledge Management. He is also Vice President for Academics and Research and Professor of Science and Philosophy at UNEM where his academic interest extends over the field of Quantum Physics and Philosophy and Science and Religion in Society. He is also a member of the Board of Trustees at East West University in Chicago Illinois, where he is also a visiting Professor. Dr. Hassam is also active in the field of counselling Psychology and psychotherapy and he is certified as a Master Practitioner in Counselling Psychology (MPCP) by Canadian Professional Counsellors Association (CPCA) and Board Certified in Canada by the Canadian College of Professional Counsellors and Psychotherapists (CCPCP) and in the United States by the American Board of Medical Psychotherapists and Psychodiagnosticians (ABMPP). He is an active researcher and lecturer in the area of Neurotheology, Spiritual Counselling and Transpersonal Psychology. Professor Hassam's interdisciplinary academic interests include, but not limited to, Physics and Philosophy, Data Science and Knowledge Management, Future Studies, Cognitive Sciences, Transpersonal Psychology, Islamic Sciences and Theology and Spiritual Metaphysics,. He teaches and lectures internationally and has many publications to his credit.
Father Binh Ta will represent Catholic. He was born in Vietnam as the 5th child of 12 children. He and his family immigrated to the U.S as boat people and a refugee. Five years later he left behind his electrical engineering world to join the Redemptorist and during his formation was sent to minister among Vietnamese refugees in Palawan, Philippines. Upon his return, he professed his vows in 1993 and was ordained a priest. He completed his study for a Bachelor of Arts in 1986, a Masters of Divinity in 1993, and his Doctor of Ministry in Intercultural Spirituality at the Catholic Theological Union in 2009. He has served as a Parish Priest in Baton Rouge, Louisiana, a Faith-Based Community Organizer in New Orleans, Louisiana, a Formation Director in Chicago, Illinois and Campus Minister in Houston, Texas. He currently is the Parish Pastor and leader for local Redemptorist's community in Seattle, Washington.
Moderator: Reverend Eric O'del who is a Co-Minister of Amazing Grace Spiritual Center. He has been a theater director and producer (Alice B. Theater), a college professor (Cornish College of the Arts) and a church music director (Center for Spiritual Living Seattle). All these life experiences come together in his work as a Founding Minister of Amazing Grace Spiritual Center. Passionate about serving the world as a speaker and teacher about practical spirituality, he also received his training and license as a spiritual counselor in 2003 and maintains a private counseling practice.
Date & Time: November 3rd, 2016 7pm
Program Length: 2 hours – 60-minute discussion, 30 minutes for Q & A and 30 minutes to mingle and refreshments.
Venue: Sacred Heart Parish (205 2ND AVE. N., SEATTLE WA)
Cost: By Donation. All Donations will benefit Queen Anne Food Bank

Due to limited space in the Parish, please RSVP
30 signed up so far.
RSVP deadline is past