May 5, 2018 – Elevate! with E@E – A celebration of Tibetan culture, meditation and wellness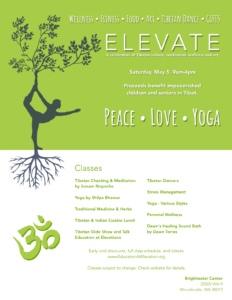 Kids without Education are like Birds without Wings.
Education At Elevation (E@E) is hosting a day of education, exploration, yoga, meditation and relaxation for our local community. All proceeds will go towards providing education, food, shelter, and shoes for impoverished kids and seniors in a remote nomadic village in eastern Tibet.
Benefits:
o 35 children, who receive housing as well as education in Tibetan, Mandarin, and basic mathematics.
o Nomad girls and women. We sponsor tuition for 2 young women to attain education beyond high school.
o Renovation of a warm shelter for impoverished seniors in the frozen land of eastern Tibet.
Event Includes:
A special guest,

Sonam Rinpoche,

who was born in Tibet and has studied Tibetan Buddhism for many years. He will teach Tibetan meditation and share his wisdom.

Spectacular

Tibetan dance and songs performed

by children from the Tibetan Culture & Sunday School of Seattle.

Plenty of topics offered throughout the day. Two classes/sessions starting every hour.

Your choice of classes on a variety of topics, including Tibetan culture & people, meditation, wellness and yoga.

Meet like-minded people in your local community, to inspire a healthy and happy lifestyle.

Tibetan and Indian specialty lunch. Vegetarian option is available.
Shopping for Tibetan art, jewelry, and specialty items.
Please bring your own yoga mat if possible

THANK YOU FOR COMING TODAY.