May 9, 2015
7:00 pm
to
11:00 pm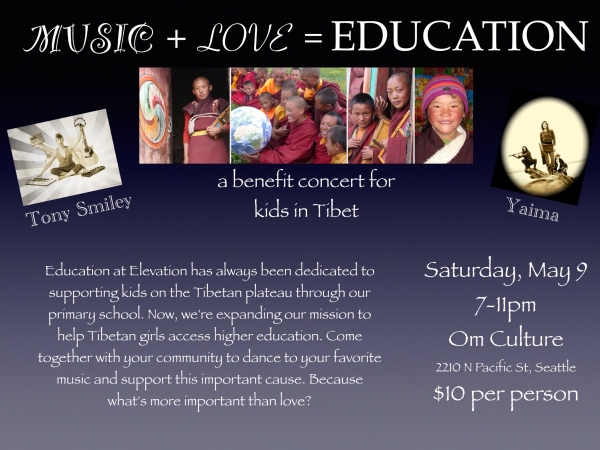 A benefit concert for kids in Tibet, featuring Yaima and Tony Smiley
Date: Saturday May 9th, 2015
Time: 7pm – 11pm
Location: Om Culture, Seattle
Admission: $10 per ticket (children welcomed)
Music … Raffle … Drinks … Craft … Henna
Buy Tickets @ Brown Paper Tickets
Education at Elevation (E@E) has always been dedicated to supporting kids on the Tibetan plateau through our primary school. Now, we're expanding our mission to help Tibetan girls access higher education.
Tony Smiley and Yaima will be singing their hearts out to help us sponsor college tuition for two Tibetan girls and to help us to continue our mission to bring basic education to the children.
Tony Smiley – A loop ninja. Guitar, bass, keys, drums, beatbox, vocals, loop-ninja-ing. Tony from Oregon has return to perform for us again. He won 3rd place in the National Boss Loop Contest in Hollywood.
Yaima – A popular local band from Seattle where they combine genres like indie-folk-tronic, psy-ambient, dub-pop and weave a smooth groove of soothing melodies, intricate instrumentation and beats that get the body blooming…Life performances sometime coupled with Intricate video Weaving & Visual Projections on Stage
Their videos cannot even capture the energy and vibration from the live performance of Yaima and Tony Smiley. Don't miss this chance to watch them perform LIVE!
Come together with your community to dance to your favorite music and support this important cause. Because what's more important than love?
Sing along. Dance. Celebrate with us!