Education at Elevation (E@E) is committed to improving the lives of Tibetan orphans, poor children and elders living in rural Eastern Tibet. Our vision is to bring hope to the children through education, emotional and spiritual support that will provide them with roots for a brighter future.
Founded in 2007, the non-profit raises funds throughout the year to provide clothing, shoes, food, healthcare, teacher salaries, and other necessities for the children. Education at Elevation works closely with the school's founder and spiritual leader, Sonam Rinpoche, project coordinators, and teachers at the school.
Since the school's inception, we have seen the students thrive intellectually as well as socially. The school not only provides an education, and nurturing home for the children, but it also serves as a family foundation for the children who have been orphaned or abandoned. Due to the harsh conditions of the region, limited healthcare options, and other social conditions, more than half of the students at the school are orphans or have lost one parent.
January 2014
$4,855 were sent for dried food (for winter months) plus one set of tooth brush, tooth paste, towel and soap for each new students.
October 2013
$2,000 were spent on food, keyboards, calculators, stationery, accommodation and transportation for local water expert surveying the water project.
April 2013
$5,500 were sent for dried food, vegetables, pork, soap, and 4 sewing machines
February 2013
$300 for Tibetan & Chinese books for the school library.
October 2012
$6,400 sent to buy dried food, chuba (winter coats), toothpaste, towels for the kids and teachers
November 2011
Total of 5 teachers are now in school teaching full time; 2 for introductory, 2 for advance and a lady teacher for the girls. 13 cast iron stoves were replaced. Additional $4,300 were sent for food
September 2011
Special Tibetan writing teacher hired to teach writing for several months.
August 2011
Water feasibility study at school location by LEI (Living Earth Institute). 80 winter caps and beanies were also donated to the kids. (Thank You Shred Alert)

May 2011
$5,400 sent to buy 4,000 pounds on barley four, rice, flour and rice each, about 1,000 lbs of noodles and 80 bottles of oil, some spices and salt
November 2010
First batch of girls enrolled to Nga Gyur Shed Dup Cho Ling school. $4,000 were also sent to buy 3,000 pounds of barley flour, rice , dry noodles and flour each and 110 bottles of oil.

October 2010
$5500 sent as the balance for the completion of the girls' school and dormitory construction.

February 2010
$5500 sent as down payment for a 4-room girls' school and dormitory construction.
November 2009
$3368 sent to buy 1 set of shoes and 2 sets of socks for each child and 5 months of dried food.
June 2009
$1200 sent to buy 70 sets of chuba (native winter robes) for the children. The chubas are hand-sewn by the local villagers.
January 2009
All funds collected during the blanket drive was sent to Sonam Rinpoche so that he can provide 70 sets of blankets and bedding to the school children.
December 2008
$1200 sent to buy food for the school. Food item list
Milestone achieved:

Winter 2008
New life began for all 63 orphans and needy children. The picture above shown the children were walking in a line entering the classroom in the morning under teachers watchful eyes. Photos taken in March 2009. More details see our newsletters at the "Press" section.
Fall 2008
Started to enroll orphans and very poor children from local area. The total number of children enrolled in November was 63, the children are from age 6 to 17 years old. There are 2 volunteer full time teachers/care takers in the school who have started to teach Tibetan languages. This is the first formal education for all of these students.

Summer 2008
Phase 1 school construction completed. 12 student quarters, 2 teacher rooms and 1 big classroom. The building is very basic with no running water, electrical nor bathroom facility.
Spring 2008
The site is located on a gentle mountain slope. There are no trees at this elevation and making site clearing so much easier. The construction has started in May 2008. Mud foundation work done. Mud is commonly used for foundation and walls because trees are only growing in certain parts of Tibet due to the high elevation.
Winter 2008
Wood arrived on site for windows, floors, and furnishings.
Summer 2006
School site identified. Land donated from local village and this showed strong support from local community.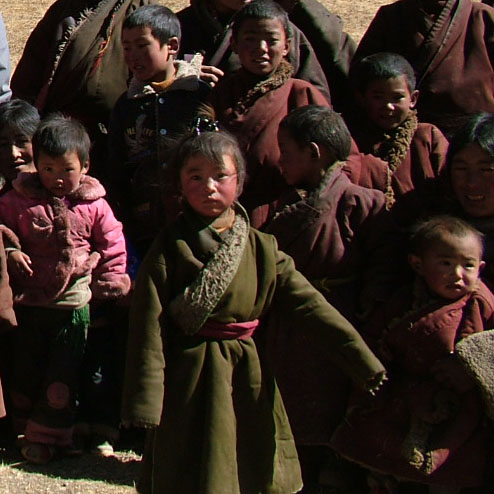 Fact Sheet
Mission: To provide a home and education opportunity for Tibetan unfortunate children and seniors in Garze Tibetan Autonomous Prefecture, China.
Location: Baiyu, located in the Garze Tibetan Autonomous Prefecture, a remote village approximately 18 hours drive from Chengdu, China. The site is 14,000 ft above sea level.