High Elevation Water Project – Nga Gyur Shed Dup Choe Ling School
High in northwestern Sichuan, on the Tibetan plateau, in the region known as Kham, there is a residential school where students from nomadic yak herding communities come to learn. The school not only provides an education and nurturing home for the children, but also serves as a family foundation for children who have been orphaned or abandoned.
The Problem
Located at an elevation of 14,000 feet, the school experiences harsh conditions in the winter months. Winter temperatures can drop to -4 degrees F. The ground freezes to a depth of at least 3-4 feet. In summer, water is available when the pipes carrying spring water from the mountain to the village thaw. But in winter, the partly exposed pipes freeze. During the winter months all water must be hand carried from a smaller spring which flows year round, but is a half mile away.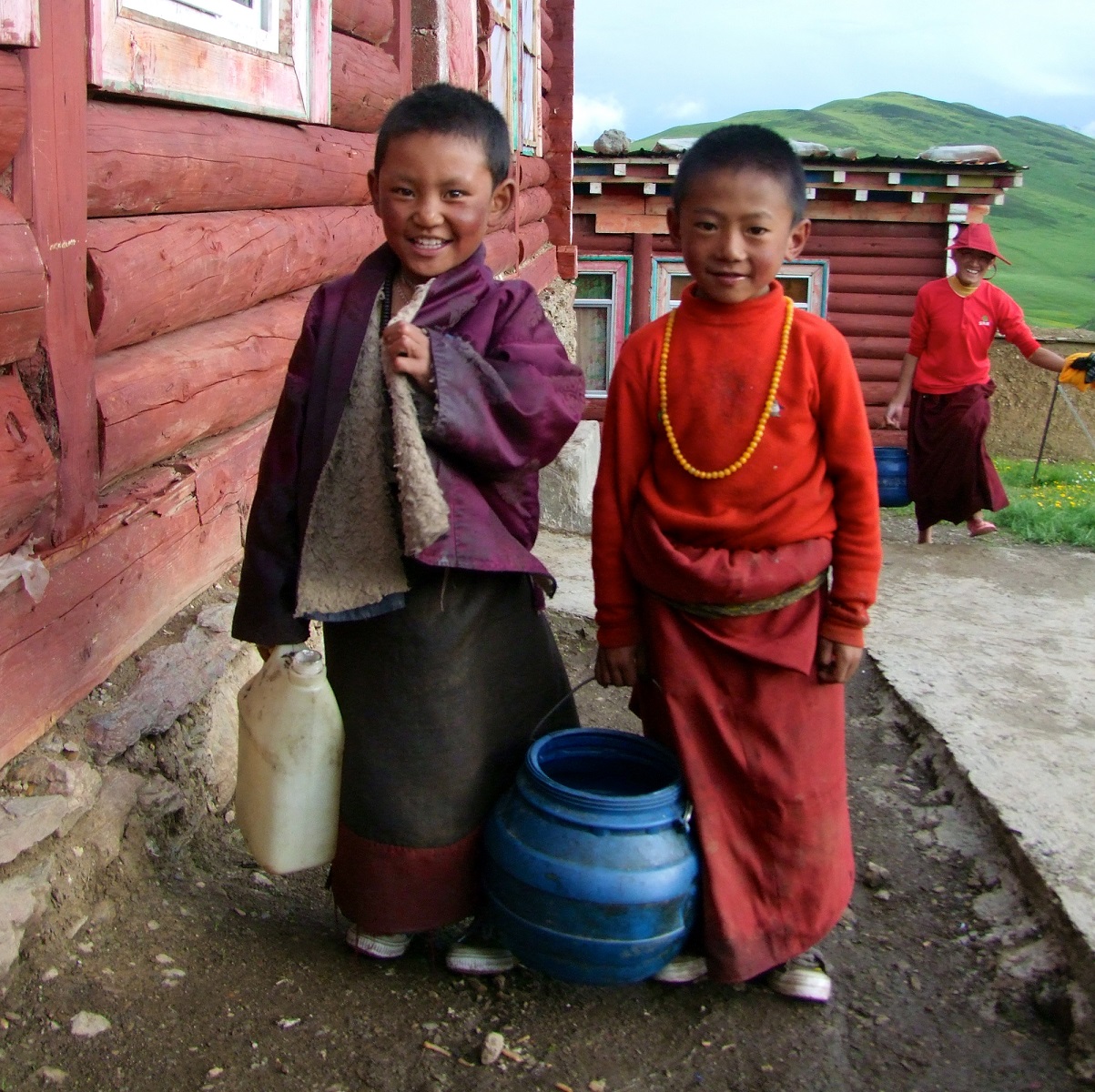 Carrying water to the school in subfreezing, uphill and often snowy conditions is strenuous and time consuming work, so in winter the water supply is very limited at the school.  Currently students are not practicing hand washing because of the limited water supply.  Respiratory illnesses, such as colds and flu, and gastrointestinal diseases are rampant.  Even when members of this nomadic community are sick, they don't seek medical help. This is due to several factors, including a 5 hour drive on dangerous roads to the nearest clinic, expensive medical costs and communication/language problems between patients and Chinese doctors. It is crucial that the students and the teachers remain healthy. As a first step, an adequate supply of water will allow teachers to promote the importance of hand washing for good health. Additionally, easy access to water will improve overall cleanliness and sanitation at the school.
The Solution
E@E worked with a hydrologist sponsored by Living Earth Institute (LEI) in 2011 to conduct a feasibility study for development of a water system which would provide water to the school and village year round. A second opinion was sought from a local expert who has constructed a similar water project in a town a few hours away. Data was collected over two years (2012 and 2013) on weather, temperature and ice formation in order to plan for the construction of a sustainable water system. The outcome is a proposal to lay 2300 feet of insulated pipe at a 6 foot depth (necessary to prevent freezing in the winter) from the water source to the school. As there is no electricity in the area, the system must depend on gravity flow. A collection pit at the water source will be covered by transparent panels to trap solar energy (similar to building a greenhouse) to minimize freezing of water in the collection pit.
Elevation of project              14,200 feet above sea level
Distance for buried pipes     About 2,300 feet
Elevation between the water source and the school      200 feet
Depth of buried pipe          6 feet minimum
Accessories                        Collection pit with sun glazed polycarbonate panels, perforated pipes, water taps, fittings, pipe insulation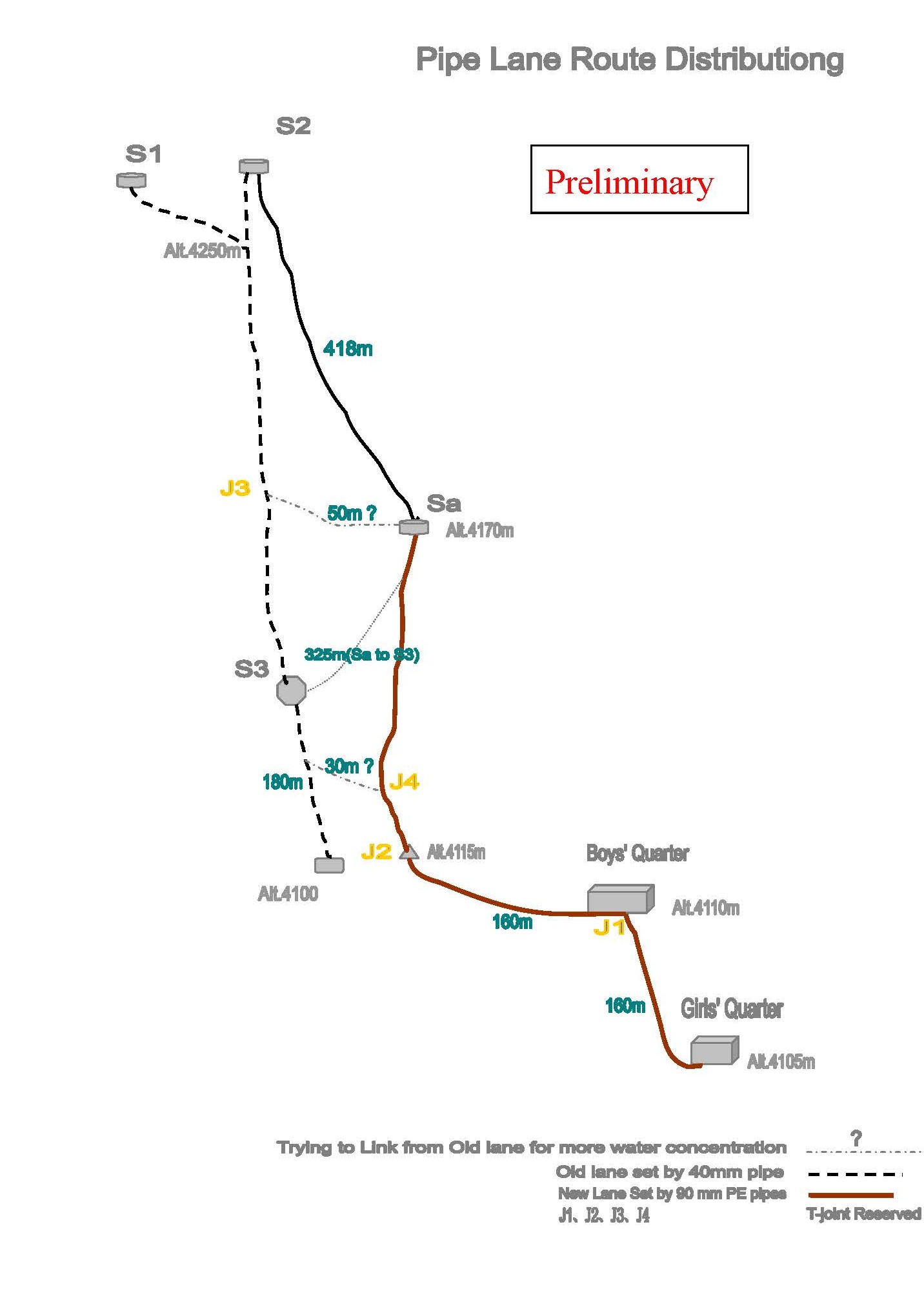 Benefiting the School and the Local Community
E@E will work with the school to hire local experts, e.g. the water expert has already been engaged, and local labor to carry out the work.  This will benefit the economy of this impoverished community.
An accessible year round water supply will also greatly improve the health of students, staff and the nearby village community.
The estimated cost of the project is $23,700, including a $3,090 contingency fund.
Material (pipes, insulation, fittings etc.)                                             $  8,300
Excavation                                                                                         $ 6,400
Transportation (~ 1,000 km from Chengdu)                                      $ 4,700
Engineering and labor                                                                       $ 1,200
Sub-total, USD                                                                                  $20,600
Contingency, 15%                                                                             $  3,090
Total Budget Estimated, USD                                                            $23,690
The 15% contingency fund is built into the budget because, in this harsh environment and unfamiliar area, we may encounter unanticipated barriers. For example, it is likely that in digging for the pipe large boulders will be encountered which will necessitate altering of the original pipe layout plans.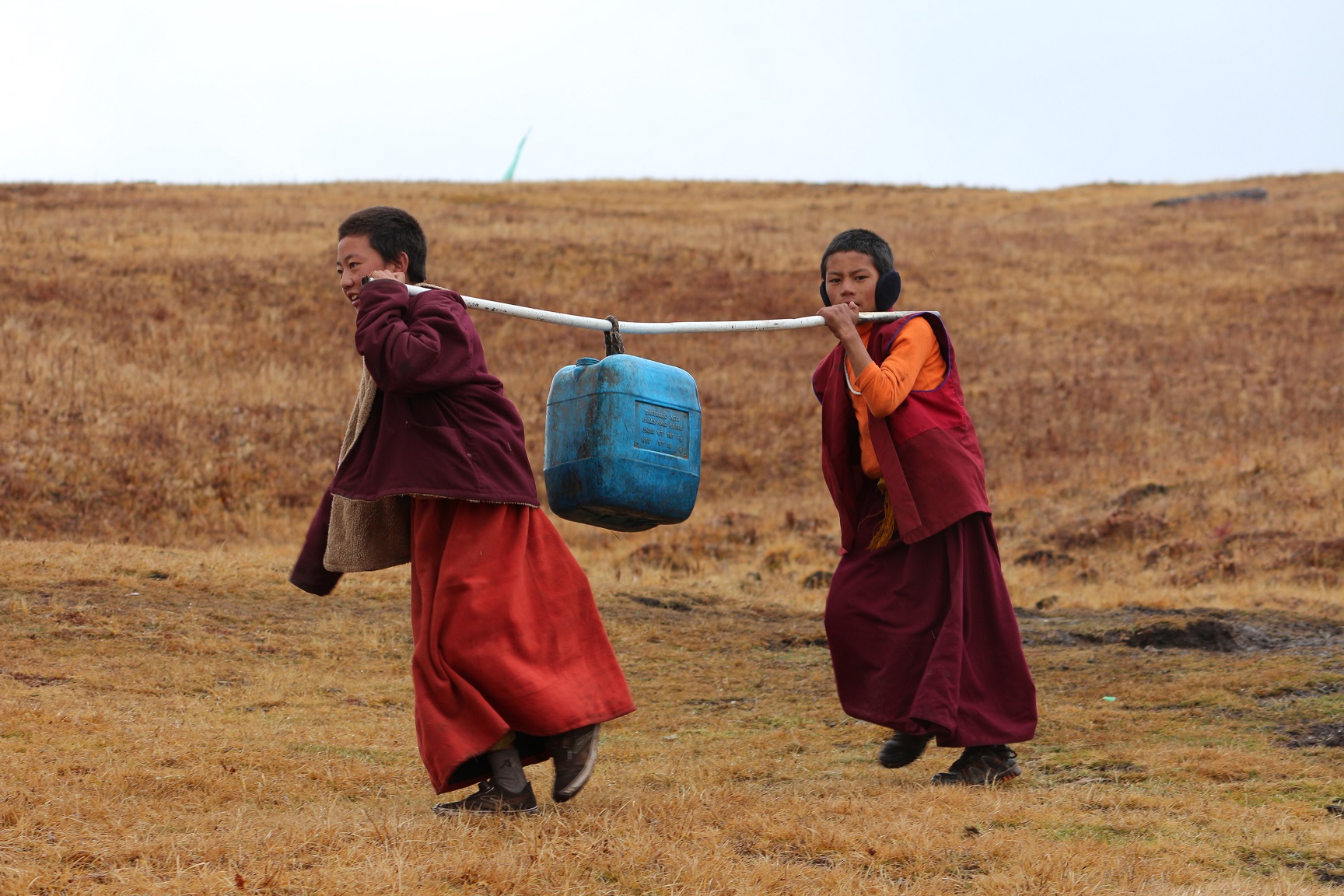 About Education at Elevation
E@E is a not-for-profit 501C3 organization based in Woodinville, WA.  Founded in 2007, E@E raises funds throughout the year to provide clothing, shoes, food, teacher salaries, and other necessities for the children and teachers at the Nga Gyur Shed Dup Cho Ling School in the Kham region of rural eastern Tibet. Our vision is to bring hope to the children through education, emotional and spiritual support that will provide them with roots for a brighter future. We do this by working closely with the school's founder, Sonam Rinpoche, and with project coordinators and the teachers at the school. Many of the children come from nomadic families, and due to the harsh conditions of the region, limited healthcare access, and other social conditions, more than half of the students at the school are orphans or have lost one parent.
Report was prepared by Anne Curtis, MSPH, Still Creek Consulting (stillcreek@q.com)